To kick off high school and college basketball season I'll begin a series on minor leaguers who went from the hardwood to the diamond at Bosse Field. I'll begin with a hometown boy, Frank Schwitz.
The 18-year-old was signed right out of Central High School by Evansville Braves manager Bob Coleman as a pitcher in 1946. By then Schwitz was a local sports celebrity after leading the city in scoring to propel the Evansville Central Bears to the Indiana High School State Basketball final four in March at storied Butler (now Hinkle) Fieldhouse in Indianapolis. Franklin Moody Schwitz was a guard on the Bears team that battled and fell to Anderson in a final-four afternoon game a few years before Bobby Plump of Milan and later the mythical Jimmy Chitwood of Hickory made the fieldhouse famous around the world. It was only Central's second loss of the year. Fittingly he won the coveted Kiwanis award during his senior year.
The six-foot, two-inch Schwitz went from the basketball state finals to the pitcher's mound for the Central after the state finals and promptly pitched an April no-hitter in Bosse Field against the Huntingburg (IN) Happy Hunters. He retired the first 20 batters in the seven-inning high school game until a walk and errors let a run in with only one out to go. He struck out the final batter, one of 11 on the day, to close out the game. Bob Coleman, a Huntingburg native must have noticed. He signed Schwitz to a minor league contract with the E-Braves at the end of the high school baseball season.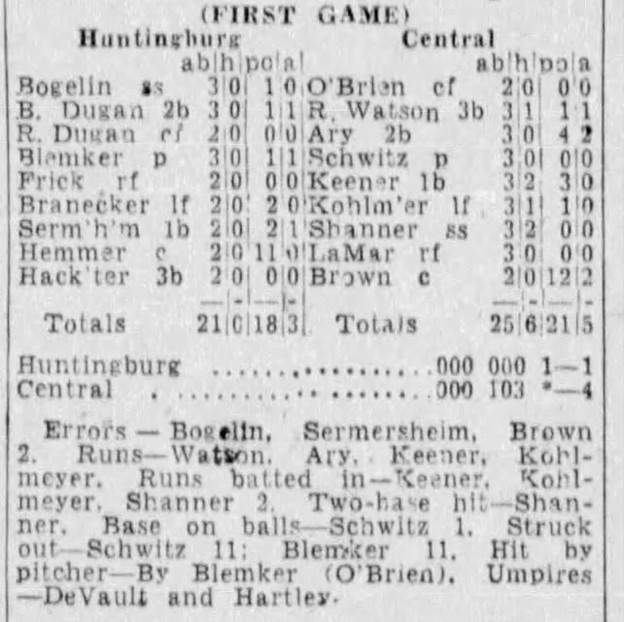 "Frank has a number of things to learn, but he can throw the ball hard and that is very promising," Coleman told the Evansville Press at the signing.
Schwitz debuted for the Braves in late June, recording a scoreless inning at Danville. Frank pitched only a few more games for Evansville before the season ended but was effective when called on.

The young hurler toiled for nearby Kentucky towns of Owensboro and Madisonville in the Kitty League during the summer of 1947 but ended his professional baseball career when the baseball season ended. Schwitz made his way back to the Evansville College Aces, where he played basketball for Naismith Hall of Fame coach Arad McCutchan and baseball for coach Don Ping, a former Three-I League catcher. Regaining college eligibility after turning professional was a little different back in the day.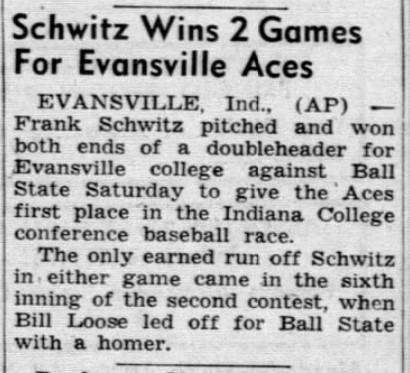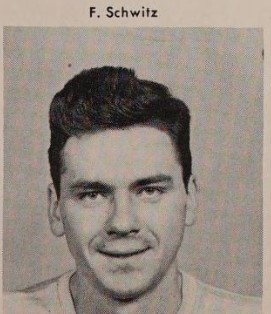 After graduation from Evansville College, he obtained a master's from Indiana University. Schwitz then worked at Howard Roosa Elementary School as a physical education and driver's education instructor. Almost a decade after college career, he was named the first basketball and baseball coach at Evansville Harrison High School, which opened in 1962. Thirty years later his Warriors baseball teams had won over 350 games. He retired from coaching in 1992.