Second in a series honoring players who went from the hardwood to the diamond, joining Frank Schwitz.
A largely unknown story of baseball in 1910 featured an Evansville River Rat who went to bat just one time. It was what this player achieved after that brief and unsuccessful plate appearance that makes it newsworthy. The player was Clarence Kraft. Kraft was born in Evansville and grew up playing baseball, basketball, hockey and ran track in the area. He was most widely known in the Tri-State as the star center on the almost unbeatable local Y.M.C.A. basketball team. His pitching as an amateur earned him recommendations that caught the ear of River Rats manager Angus Grant. Kraft was given a tryout in March.
Kraft wasn't looking for a career in baseball. At 22 years old he  attended business school and developed a keen interest in automobiles, which he sold and worked on for a living. His tryout was impressive. In a Bosse Field exhibition game against the major league Detroit Tigers Kraft pitched four innings, faced only 13 batters, and held them without a hit. His work included retiring the greatest hitter in baseball history, Ty Cobb. In another exhibition he surrendered just one run in five innings against the Cuban All-Stars. In his last he pitched the entire game for the local Y.M.C.A. team against the River Rats and yielded no earned runs.
Clarence made the club on the strength of his pre-season showings, but he sat, and he sat. He batted just once during the early weeks. The league's player limit was 15 at the time, and Kraft was the odd man out in mid-May when pitcher Thomas Dugger rejoined the team. Manager Grant worked a deal to "loan" Kraft to McLeansboro (IL) in the Class D Kitty League. Kraft proved to be the best player in the Kitty League. He won 13 games and lost only two and tossed a no-hitter against the Harrisburg (IL) Billikens in August. McLeansboro rolled to the Kitty League pennant. Grant never saw the loan repaid, although Kraft returned to play Y.M.C.A. basketball for a team called the "Beards" when baseball season ended. Kraft continued to keep his home in Evansville and played basketball in the wintertime for many more years.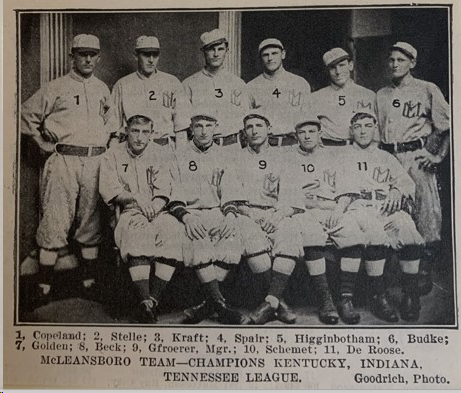 The Evansville native made a steady climb upward through the minor leagues from Class D to C to A until Boston called him up for a cup of coffee with the National League's "Miracle Braves" in 1914. In his one and only trip to the bigs, Clarence (now nicknamed "Big Boy") went one for three. His only hit was off future Hall-of-Famer Rube Marquard. Most of 1914 was spent playing for Newark, a Class AA International League team because of his release by Boston to Brooklyn (the Superbas). When Brooklyn sent him down to Class A Nashville, Kraft thrust himself into national news headlines by invoking a new rule put in by the Baseball Players' Fraternity (BPF), a union formed in 1912 to help major league players.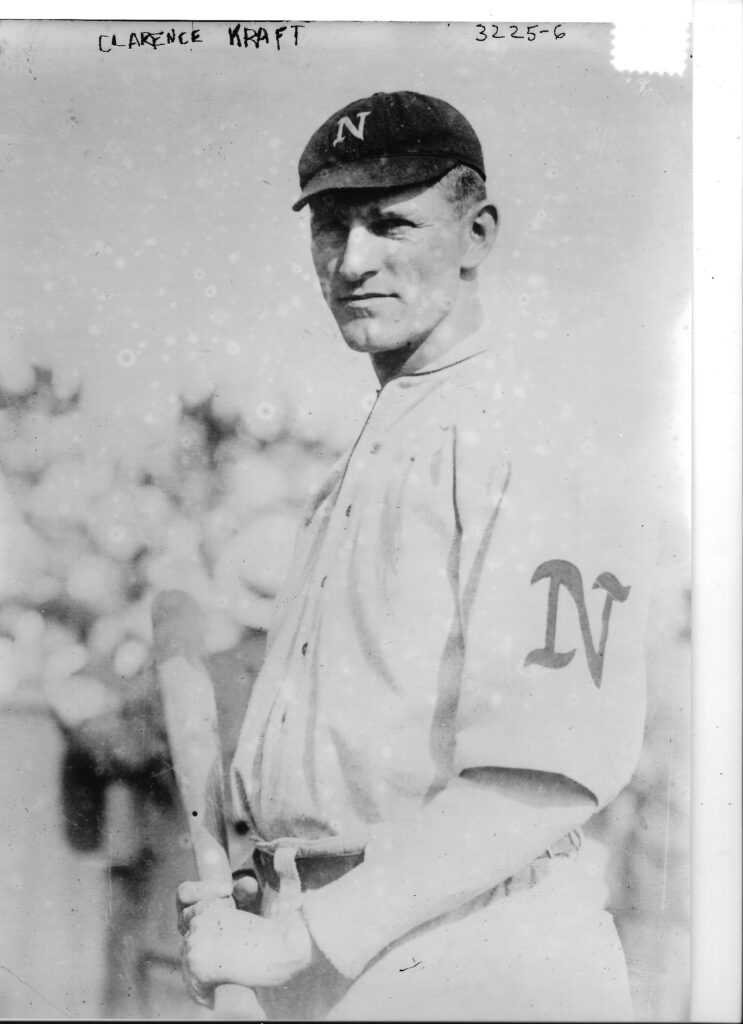 The players' union employed the National Commission, baseball's governing group, to put in a rule stating that a player optioned or released from a major league team had to first be offered to Double-A teams before being sent to a lower classification. Double-A was the highest minor league classification. The change was aimed at keeping the newly formed Federal League from poaching players from major league teams.
Class AA Newark had claimed Kraft, and that is where he wanted to play. The move was clearly in conflict with the new rules, so Clarence refused to report to Nashville and went straight to Newark. The conflict raged to the point that the Baseball Players' Fraternity threatened a strike of all union members and players. Before that happened, a cooler head ended the tempest by offering Nashville $1,000 to withdraw its claim. The cooler head was Mr. Charles Ebbets of Ebbets Field fame. Nashville accepted the offer. "Big Boy" got his wish and spent the rest of the season playing for Newark.
Kraft kicked around with several Class-AA teams when Texas came calling. He signed with Fort Worth's Class-B Texas League team for the 1918 season about the same time the U.S. entered WWI. Big Boy was drafted into the Army 70 games into the season. He was assigned to the 309th Motor Transport Corp. and served six months in France before being discharged as the war ended. The Texas League ceased operations a few weeks after Kraft left for the Army but was back in business in 1919. Fort Worth re-signed the recently married veteran. That started a run in Ft. Worth that saw the now 31-year-old get better with age.
Kraft transformed himself into an ageless wonder at the plate. With their newfound star, Ft. Worth became one of the most powerful minor league teams in history. The Panthers lost in the playoffs after winning the regular season by 23 games, their last pennant-losing season Kraft saw in Texas. They won in 1920 and continued to dominate the Texas League, triumphing every year through 1924 when they won a remarkable 109 of 150 games.
Beginning in 1921 Kraft went on a power hitting tear. He banged 31 home runs (.352 BA) and bettered those totals the next season with 32 homers and 131 runs-batted-in, both league leading totals (.339 BA). He socked another 32 long balls in 1923 (.324). Kraft turned 37 years-old in 1924 and celebrated his advancing age with the most astounding numbers of his career – 55 home runs, 150 runs scored, and 196 runs-batted-in. Big Boy had an amazing nine two-home run games. Kraft's RBI total is still a Texas League record. His career total of 170 home runs in the Texas League ranks fourth all-time.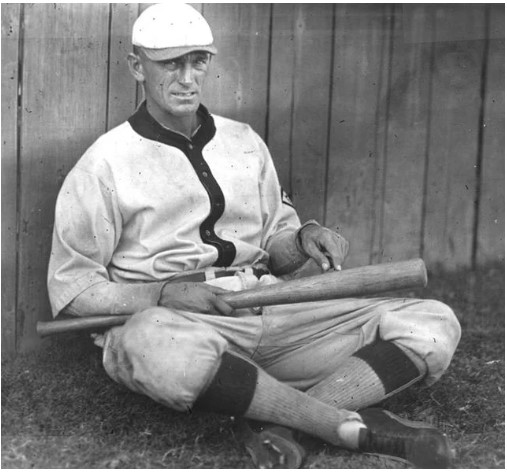 At the tender age of 37 Fort Worth offered him a two-year contract. The Cincinnati Reds also put out feelers for his services, but he declined both. Kraft, one of the greatest home run hitters in minor league history, was ready to go full time into business. He retired to a successful car dealership. He also served as a judge in Tarrant County Texas from 1942-48.
The home-grown Y.M.C.A basketball player, who failed in his one at bat with the home team, died in 1958. He is still remembered as one of the most feared hitters in minor league history.